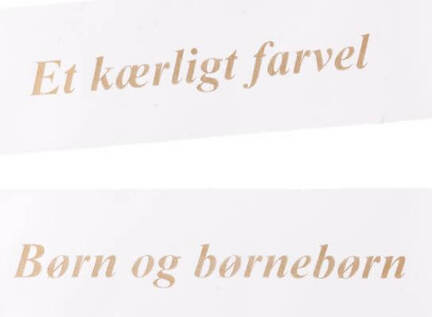 Purchase white satin ribbon with a personal message
€ 13,45
A white satin ribbon with a text of your choice can be offered. 75mm is used for bier bouquets and 100mm for bier decorations and coffin decorations.
The coffee flower has its own thermal printer and can thereby offer heat embossing and digital printing of Mourning bands, Rosettes, Order ribbons, decoration etc. Heat embossing gives an incredibly beautiful and durable print. Our ribbon is suitable for bouquets, decorations and wreaths that need to be left outside, as our print is weather-resistant and can withstand better than printed ribbon.

We can therefore fulfill texts at relatively short notice.

Note that it is not recommended to use the following texts - Condolences and R.I.P. as this is not seen as appropriate

Prices are incl. VAT
Description
Characteristics
Suggested text:
Sleep sweetly, dear
One last greeting, dear [name]
Goodbye My Love
Farewell, dear friend
A fond farewell
A final farewell
A last regards
In love
We will never forget you
Never forgotten, always missed
Never forgotten, kept in the heart
Loved and missed
Thanks for you
Thank you for everything
Thanks for many good memories
Thank you for many pleasant hours
Our warmest thoughts
You were strong to the end
Loving thoughts to you
Nice trip
Rest in peace
The memories live on
Honor be to your memory
A light is extinguished, a star is lit
Satin ribbon
Satin ribbon without fringes