About
The coffee flower at Helena

Is a small workshop/flower shop I started when my last workplace Stellini Kaffe chose to move to Copenhagen.
Since my great passion has always been flowers and creativity, I have chosen to take the leap and listen to my heart.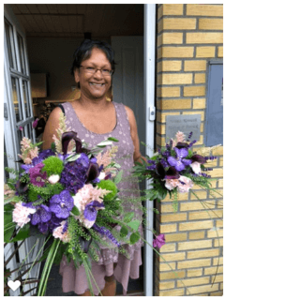 2019 - Completed the flower arranging course and can now fulfill both tall and low, airy and traditional bouquets - all with a touch of innovation if desired.

2020 - Course in Bridebinderi 2 to be able to fulfill this special bouquet that would like to be completely unique for this special day.
Happy to help with new exciting tasks - is always open and creative about solutions.
Do you need some advice on a good gift idea? So call me mobile 53637127, I'm sure we'll find a
good solution.
Coffee flower concept

It must always be possible to find a nice, fresh, beautiful hand-tied bouquet that is, of course, refrigerated (your guarantee of good shelf life).
All bouquets are To-go, i.e. wrapped with water and can easily last 1-2 days depending on storage temperature (should be kept cool)

If the need is an exciting hostess gift, there is also a selection of practical art wrapped as a gift. And finally, there is hand-roasted coffee from the micro roastery Stellini Kaffe

Payment is only made via mobilPay 449 449 or in cash during opening hours.